Microsoft revealed their upgrade of Windows 8 to Windows 8.1 this week, if you are still a Windows 8 user you probably noticed the notification about upgrading to Windows 8.1 for free. You can upgrade Windows 8 to Windows 8.1 in-place via the online Windows Store.
However, the update might fail for some users. Here's what you have to do if you are affected by this issue.
There are two reasons mostly which can prevent you from upgrading Windows 8 to Windows 8.1: per-requisite updates, and wrong Windows 8 edition installed. Follow these steps and you will be able to get Windows 8.1.
Solution 1: Turn on and install Windows Updates
According to the official release notes, KB2871839 is required for every Windows 8 installation. This is not a problem if you have Windows Updates turned on and set it to install updates automatically. In this case you probably have it installed already.
If not, check for updates and install every update available for Windows 8. Open the Control Panel and go to System and Security\Windows Update.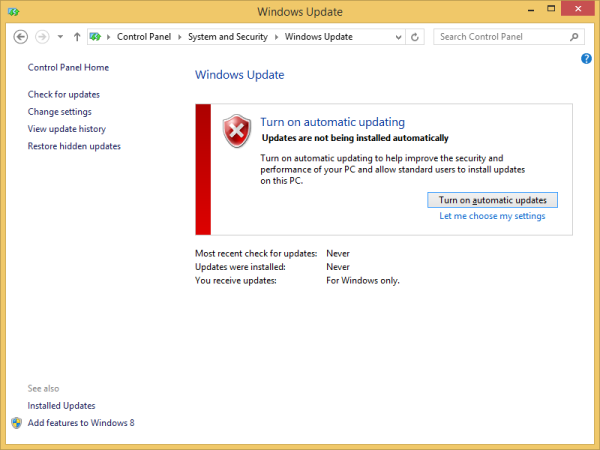 Make sure that you install KB2871839, otherwise Windows 8.1 will not be shown as an upgrade in the Windows Store.
Solution 2: Wrong Windows 8 edition
You might be surprised, but not every Windows 8 edition supports upgrading to Windows 8.1 via the Windows Store. The following editions do not support upgrade via the Store:
Windows 8 Enterprise.
Windows 8 Pro installed using KMS activation.
Windows 8 editions installed using MSDN ISO images, and those that are activated using Multiple Activation Keys.
So, what is the solution in this case? You have only one choice: you have to wait until Microsoft makes the appropriate Windows 8.1 ISO image available for download via MSDN.
If you need assistance figuring out whether or not you should upgrade to Windows 8.1 right away, read about Windows 8.1 system requirements and new features. They can help you decide.
---
You can follow us on 
Twitter
, add us to your circle on 
Google+
 or like our 
Facebook page
 to keep yourself updated on best
how to
's on web, about computing,
gadgets
, Facebook,
iPhone
, Android, Microsoft,
Linux
, Mac, OpenSource and many more.